Enquiry | Sales @ : +91-866-2466675

Home » Products » Railway Signaling: System Integrity Tester(SIT)

System Integrity Tester(SIT)
System Integrity Tester Improves reliability of "Railway Signaling Interlocking" by
Automating the Test process

Test Case Generation
Test Case Execution
Validation of Test Results

Produce Test Results document for Evidence.

Architecture :
Description :
The conventional (manual) system has the following limitations
Test procedure is not fully defined
No document of Testing ( test plan )
No evidence of Test Results
No evidence of validation of test results
No scope for verification of tests done since no tangible output results out of testing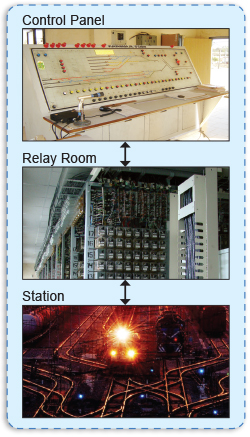 Modules of system :
Data Logger

Processor based system
Logs the status of Relay contacts
Connected to PC by serial port
Works on 24 v DC

Relay Driver

Processor based system
Relay Driver Cards (128 Output) – Quantity dependent on Size of Panel ( No. of routes)
Controlled by software program in the PC
Connected to PC by serial port
Works on 24 v DC

PC (Tester software)

Connected to Data logger and Relay Driver by serial ports
Loaded with yard specific test software and software to communicate with relay driver and data logger
Test status displayed on real time basis
Report generation
This system is applicable for
Route setting type panels
non-Route setting type panels with Table of Control(TOC).
Following types of System Integrity tests :
Negative test of controlling functions as per TOC
Route release test - light engine and long train
Test for route locking
Test for back locking or route holding
Test for approach locking
Red-lamp protection test
Aspect sequence control test
Lamp cascading test
Point track locking test
SMKEY locking test for different assets
One signal one train test
Crank handle and LX Gate locking test
Square sheet test
Process of testing :
Representation of Table Of Control in terms of data logger inputs
Instructions for carrying out tests are defined
Tests are converted to a software program based on Table Of Control
Desirable test results are generated by software program based on Table Of Control
Online test results are compared with desirable results through software program
Status of the required relays are taken by the system from Data logger
Benefits: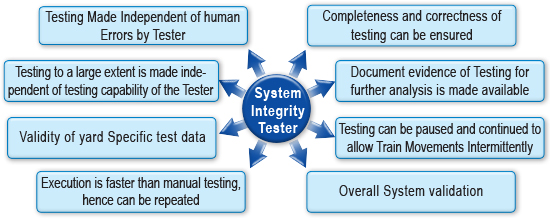 Testimonial :
Tested 33 Stations(nearly 3000 Routes) of Indian Railways of almost all available Interlocking practices of British/Siemens PI, RRI as well as Electronic Interlocking.
Usage/Application Areas :
Railway Signal Interlocking testing in

Panel Interlocking ( PI )
Route Relay Interlocking (RRI)
Solid State Interlocking (SSI)