Enquiry | Sales @ : +91-866-2466675

Home » Products » LED X-Ray Film Viewer » Industrial X-Ray Film Viewer
Industrial Radiographic X-Ray Film Viewer
High intensity Film Viewers / Industrial radiographic illuminators are available for viewing radiographic films using LED light sources.
Designed with high efficient LED light source, enable the viewer to high luminance and excellent uniformity.
Viewers are capable of viewing films of up to density 4.0 and specific models are designed to view very dark films of density up to 4.5.
Film viewers are having common features such as Control for varying light intensity to suit density of radiograph.
High energy efficient product.
Note :
* Customization is possible based on customer's requirements.
* Best servicing support in all over India.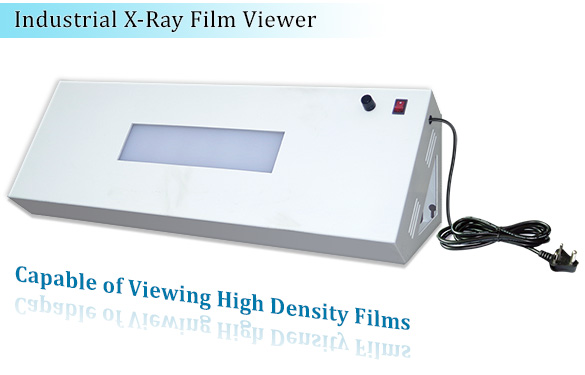 Specifications for Type1 & Type 2 Industrial X-Ray Viewer
Parameters
Type 1
Type 2
View Port
: 240mm x 60mm
: 400mm x 100mm
View Pieces Density
: >=4.0D
: >=4.0D
Input Voltage
: 150~250VAC 47~63Hz
: 150~250VAC 47~63Hz
Rated Output
: 50W
: 100W
Continuous Highest Brightness
: 8 hours
: 8 hours
Surface Temperature Raise
: ≤30°C (No force cooling required)
: ≤30°C (No force cooling required)
Contour Dimensions
(length*width*height)
: 530X200X80 (mm)
: 1050X200X80 (mm)
Maximum Brightness
: 4,00,000 Lux
: 4,00,000 Lux
Cost in INR
: Rs. 12,462
: Rs. 60,000
Cost in $
: $ 190
: $ 910