Enquiry | Sales @ : +91-866-2466675

Home » Products » Traffic Lights: Solar Wireless Traffic Light Control System
Solar Wireless Traffic Light Control System
Wireless Traffic Light Control System is built with latest technologies to eliminate difficulties
faced in existing conventional traffic light control systems. This type of traffic light control system is completely wireless, solar-powered and eco friendly.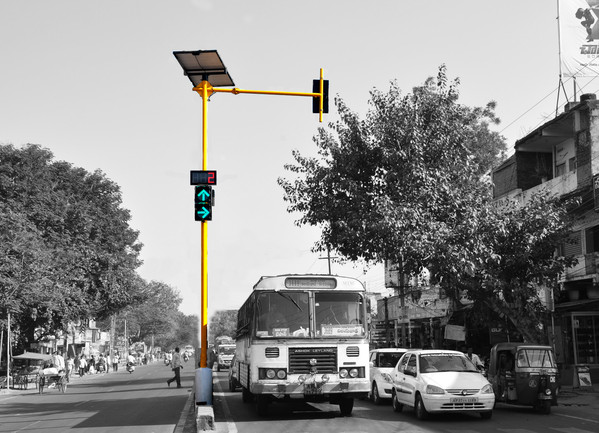 Best features of Solar Wireless Traffic Light Control System are :
1. Eliminates road trenching & cabling
Uses 2.4GHz Zigbee wireless communication to control lamps.

Solar power supply at each pole eliminates power supply wiring from one source.
2. Operates on non-conventional energy source i.e, solar.
3. Power backup
Provides backup up to three continuous cloudy days.
4. Suitable and works at any climatic condition
5. Prevention from corrosion
6. No Electricity bills
7. Reduced Power Consumption
Uses efficient, high bright, focused and low power consumption LED's in a lamp and count
down timer for more reliability, longer view and longer life.
8. Central monitoring and controlling (optional)
Uses GPRS / GSM connectivity to upload the signal status ONLINE to the central place.

Each junction reports all the failures to the central place. i.e.

Any lamp permanent on/off.

Power supply failures

Communication failures etc

Mimic showing the functioning of junctions OFFLINE to understand the synchronization
and sequence operations.

Control of lamps and updation of the junction configuration from central control room.
9. Three in one lamp
"RED, YELLOW & GREEN" arranged in one retrofit.

Cost effective.

Saves space
10. Eco-friendly
11. Easy installation
12. Adhoc & temporary installation can be easily made for special events
13. Synchronization between the junctions.
Possibility to maintain the synchronized sequences in a series of junctions for a given speed
between the junctions.
14. Hour wise and day wise sequences in a week.
Provision to program hour wise in a day and day wise in a week sequences to suit the
traffic variations in a junction.

Provision to program 20 holiday sequences.
15. Maintains standard time and duration in a sequence.
Time synchronization with GPS clock to maintain international standard time and
time duration in a sequence.
Advantages of Solar Wireless Traffic Light Control System are :
| | | | |
| --- | --- | --- | --- |
| | One year warranty | | PAN (Presence Across Nation) - India service network |
| | Supports customization | | 100% quality testing |
| | Long Visibility | | 10 Years of life |
Our Certifications
Related Products: