Enquiry | Sales @ : +91-866-2466675

Home » Products » Infrastructure: Water - SCADA
Water - SCADA
Public drinking Water Works aims to provide safe potable water to every person. To achieve this they pump raw water from various sources like river and bore wells, process the raw water and then distribute to the public through various service reservoirs present across the city. Both Quantity and Quality of water is very much important for Public Drinking water works. Power full software and measuring instruments can help in optimization of the water works functionality.
Water Management system aims to provide Quality and Quantity Auditing in Public Drinking Water Systems. The system logs data related to various parameters like Flow rate, Volume accumulated, quality assurance by measuring the ppm of chlorine etc in various parts of the city. The entire data is transferred to the one central place and reports are provided for further analysis and optimization of the Drinking Water Schemes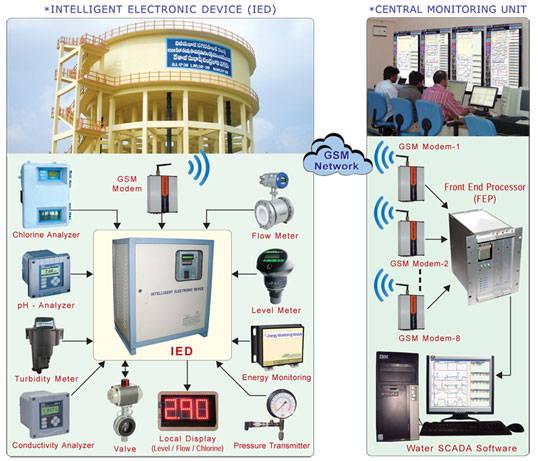 Objectives of the WaterSCADA system:
Quality of water:
To ensure quality of water during end user distribution
Identification of improper chlorination at plants
Identification of chlorine decay in reservoirs and pipelines
Informing the field operator regarding local boosting before distribution
Quantity of water:
To avoid imbalances created by excess supply in one area and shortfall in other area.
To ensure right quantity of water daily to the public
Timeliness and duration of supply:
To ensure water supply at the right time
Unreliable timings and durations will be identified
Improper reservoir operations that may affect supply in other areas will be identified
Unaccounted for water
Reduce water losses due to overflows, leakages
Identification of plant vs reservoirs Unaccounted For Water(UFW)
To determine Unaccounted for Water(UFW) in water supply lines
Cost of operations:
To reduce cost of per unit water by reducing the wastage of water
Measuring the energy consumption at a plant
Benefits:
Total accountability in Water production and Water distribution system.
Continuous monitoring and display of network flow status and supervisory controls.
Reports overflows, leakages, Unaccounted For Water (UFW) at various stages of distribution.
Uniform distribution of water can be achieved though out the supply area eliminating imbalances.
Online information and historical data helps in managing demand variations.
Automated reports helps in taking timely decision.
Continuous assessment can ensure water Quality & Quantity.
Improves quality of service and overall plant efficiency.
Architecture of WaterSCADA system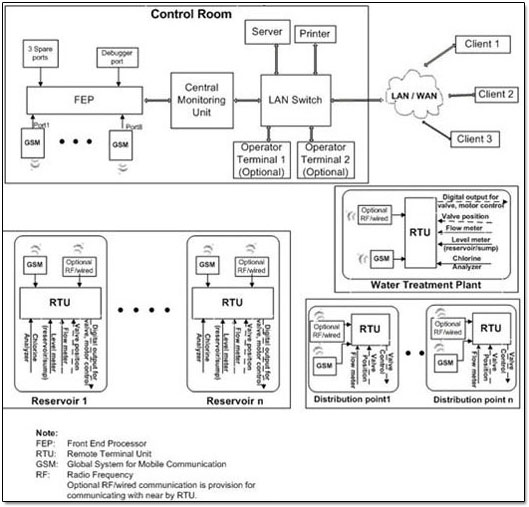 Typical arrangement of Water SCADA equipment at reservoir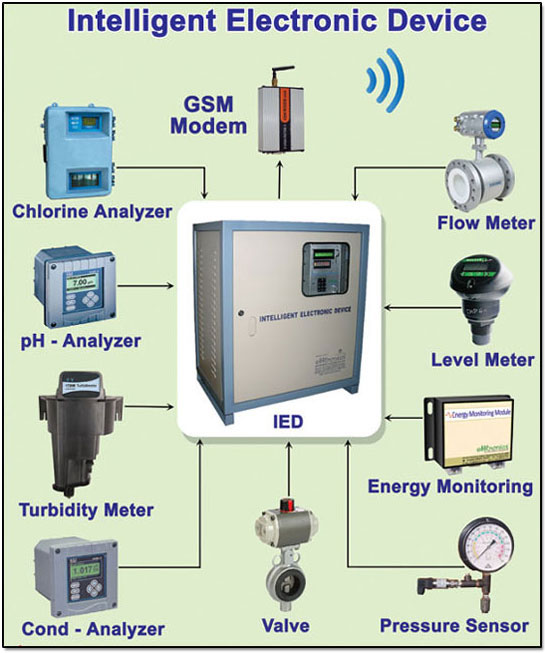 Flow meter
Measures the inlet/outlet flowrate of a reservoir/sump
Measure the flowrate in a pipeline in both the directions
Generates output in the form of user programmable 4-20mA,RS232
Level meter
Measures level in the reservoir/sump
Indicates abnormal condition like low level, overflow using digital outputs
Generates 4-20mA user programmable current output
Chlorine analyzer
Measures free residual chlorine at the inlet and outlet of the reservoir and at the plant outlet
The chlorine level is sampled for every 2.5 minutes
Generates 4-20mA user programmable current output
Pressure sensor
Measures the head of the pump at plant outlet
The efficiency of the plant can be identified
Generates 4-20mA current output
Energy meter
Measures energy parameters at a scan rate of 5 seconds
The energy consumption measurement can be used to identify the cost of production
Transfers data using RS232 communication
Intelligent Electronic Device (IED/RTU)
IED collects data from all the equipments through wired or wireless communication and processes the data.
The parameters are scanned at the rate of 250ms by IED and data is generated based on user defined tolerance
The data is transferred to central location through GSM communication on request.
IED generates various configurable Alarms like, tank overflow, leakages, insufficient flow rate etc
Local information like present water level, flow rate, chlorine level and various other status for the local operator through LCD display to optimize the daily operations
Valve/Motor On/OFF can be controlled using digital outputs of IED
Front End Processor(FEP)
Receives data from all the IEDs by polling each IED
Validates received data.
The data from all the IEDs is sequenced and timestamped
Having provision to store large amount of data for historical trends
Central Monitoring Unit(CMU)
Receives the data from FEP, process the online data
Provides central monitoring of all IEDs using FEP
Provides control over field operations by generating commands to FEP
Generates online trends , mimic displays
Generates user defined alarms
Server
CMU stores the processed data in the server
Decision making reports are generated through data in the server
Maintains the historical trends for future analysis
The daily, monthly, yearly conclusions are maintained in the server
Software features
Receives data from all IEDs through FEP
Processes the data

Displays online graphical and textual information
Mimic display of hyraulic network consisting of plants and it's reservoirs
Equipment health monitoring
Alarms generation for any abnormal behaviour of the reservoir/sump regarding quality, quantity and timeliness

Stores the data for future reference
Generates reports

Daily report containing the filling ,distribution, overflow, leakage , unaccounted for water(UFW),water quality details of a reservoir
Monthly summary report of all the problems regarding quality , quantity , wastage, timeliness ,uniform distribution of water supply
Monthly, weekly, daily summary historical trends for different levels of users shall be provided to make water distribution management easier
Online graphical and textual information of all parameters at a glance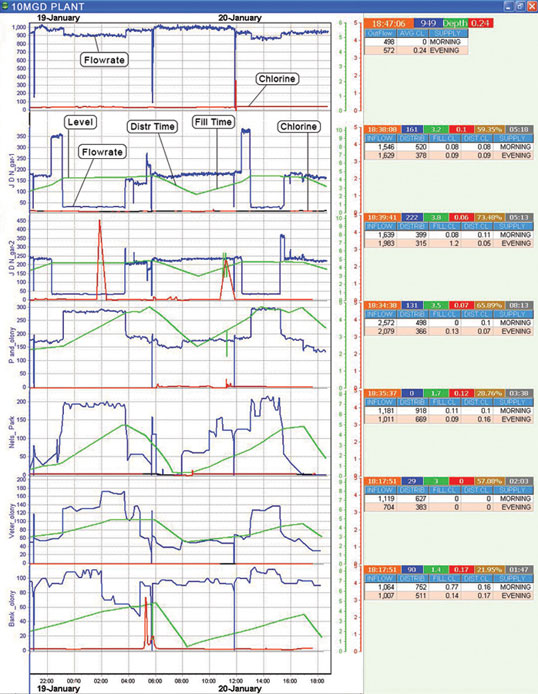 Mimic display of plant and reservoirs/sumps network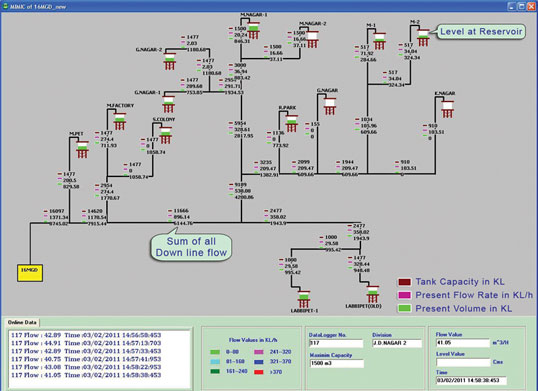 Daily report containing the filling ,distribution, overflow, leakage details of all reservoirs/sumps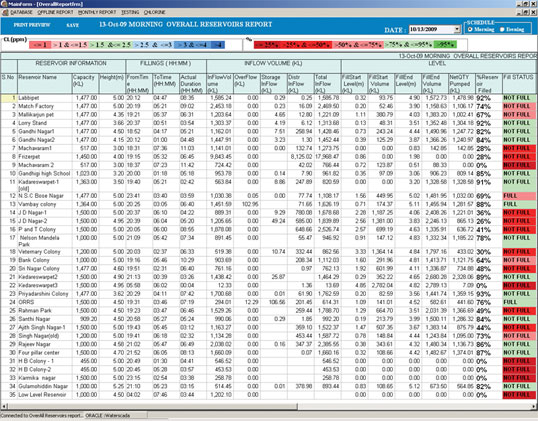 Summary report of all the problems regarding quality , quantity , wastage, timeliness ,uniform distribution of water supply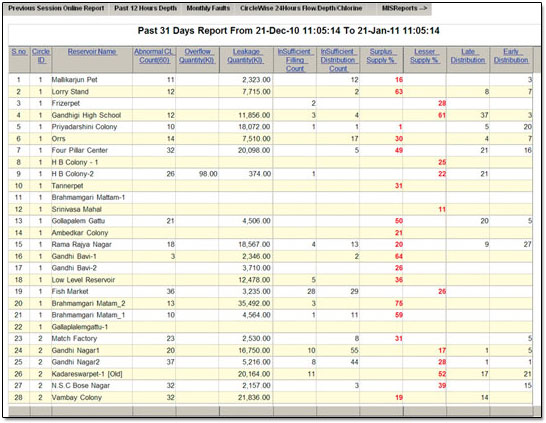 Hardware Specifications
REMOTE TERMINAL UNIT:
Processor
32 bit processor
RTC
RTC with built in battery backup
I/O Capacity
Analog inputs : Min.8 should be expandable to meet all the required parameters to be measured for monitoring and controlling.
Resolution : 16 - bit
Accuracy : 0.1%
Galvanic isolation between channels.
Digital inputs : 32 and expandable as per requirement .
Digital outputs : Min.8 should support all the control devices as per the site and project requirement.
Memory Capacity
Stores up to 10 lakh records for memory card interface to retrieve records.
Displays
2line x 24 character LCD
Keypad
4 x 3 alphanumeric keypad
Communication Supportability
Either GSM or RF or wired communication.
Communication Protocol
Standard Proven protocol
Printer interface
Serial printer
Operating voltage
18 - 32 VDC
Mechanical
Euro Rack with backplane for CPU and other modules.
Housing Rack
To secure RTU, Battery charger, Batteries etc., with necessary wiring and with viewing glass on door
Operating Temperature
10 – 850 C
Multiport Front End Processor
Processor
32 bit processor
RTC
RTC with built in battery backup
Memory Capacity
Stores and maintains latest 10 lakh records.
Displays
2 line with 24 character LCD.
6 digit seven segments display.
Keypad
4 * 3 alphanumeric keypad
Communication Supportability
Either GSM or RF or wired communication.
Communication Ports
8 network ports (either GSM or RF or Wired communication)
2 PC ports
1 Debugger port
3 spare ports
Communication Protocol
Standard Proven protocol
Operating voltage
18 - 32 VDC
Mechanical
Euro Rack with backplane for CPU and other modules.
Housing Rack
To secure FEP, Battery charger, Batteries etc., with necessary wiring and with viewing glass on door
Operating Temperature
10 – 85° C
Leakage Report

Over Flow

Online Faults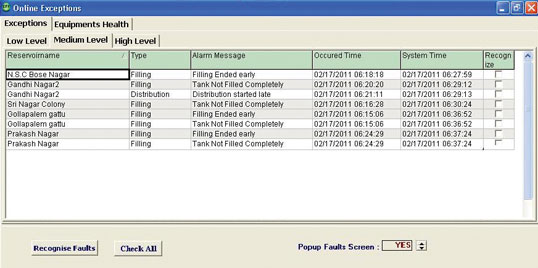 Schedule Deviation Report