Enquiry | Sales @ : +91-866-2466675

Home » Products » Railway Signaling: Wrong Operation Indication System (WOIS)

Wrong Operation Indication System (WOIS)
WOIS monitors indoor and outdoor signaling equipment failures and operational mistakes of Railway Signaling system. This system is capable of pinpointing unsafe conditions by validating each operation with reference to the intended safe design of the signaling system.
LCD unit at control panel alerts the panel operator of his wrong operations and through WOIS system technician can get the information about the equipment failures and the required maintenance. WOIS achieves this by monitoring signaling relays status through data acquisition device "DATA LOGGER" and processing the same with the customized software prepared for each signaling installation. The system gives on-line alert messages to the operator of the signaling system. The messages are conveyed in user friendly manner by using different color codes.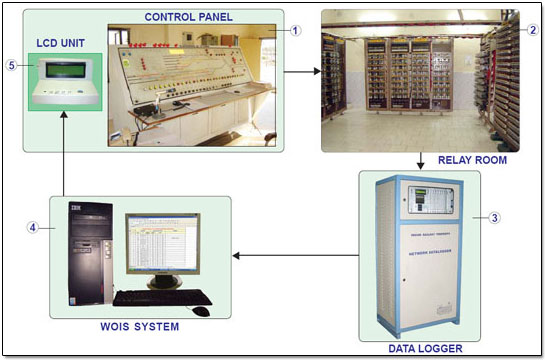 Signal is operated from control panel.
After control panel operation, corresponding relay changes their status
Data Logger captures relay status whenever their status is changed
WOIS gets relay status from Data Logger for alarm generation.
LCD unit at Control panel alerts the panel operator of wrong operations
Benefits & Features:
On-line simulation displays Real-Time status of Yard.
Identifies wrong operations of control panel operators.
Monitors all signaling operations for finding failures and unsafe conditions–helps in curbing wrong operating practices.
On line Alarm generation reduces accident occurrence probability.
Monitors intensity of signaling equipment (like relays, point machines etc) usage to enable their condition assessment for timely replacement.
Circuit condition validation for finding the root cause of any failure and unsafe conditions.
Station data entry through user friendly Auto Entry Tool.
Messages for wrong operations are sent to the panel operator and equipment failures with root cause made available to the maintenance personnel on real time.
Periodical user selectable Report generation.
On-Line Simulation is the replica of control panel where current status of Tracks, Signals and Points are visible. Through this user can easily identify the movements that are taking place in sequence and the status of Tracks, Signals and Points.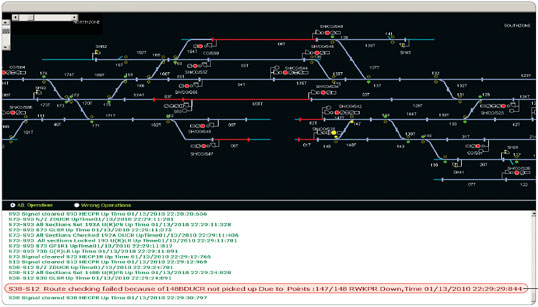 System Specification:
Data Logger
NMDL software
LCD panel Unit
Desktop Computer

OS-Windows XP professional or latest
Anti virus Software.
Intel Pentium core 2 duo 2.4GHz
Cache 4 MB
2 GB RAM
80 GB 7200rpm HDD
DVD-Combo Drive
19" color TFT monitor
Optical Scroll Mouse
Standard Keyboard
LAN 10 / 100 / 1000 with additional Gigabit
3-serial, 4-USB, 1 parallel port
Applications:
Panel Interlocking
Route Relay Interlocking
Electro Mechanical Interlocking
Reports:
User can create the data back-up file according to their own choice (ex. daily, weekly, monthly etc.) which helps in easy tracing of past data.
Reports are categorized into three types :
Failures – equipment failures.
Unsafe – unsafe conditions that arise out of relay misbehavior, wiring failures, cable faults etc.
Wrong operations – Premature release of buttons, trying for non permitted movements, non signaled movements etc.