Enquiry | Sales @ : +91-866-2466675

Home » Products » Railway Signaling: Battery Health Monitoring System

Battery Health Monitoring System
Battery Health Monitoring System (BHMS) is a microprocessor based intelligent system capable of monitoring the health of battery bank. BHMS calculates the net charge of Battery bank, deterioration of batteries in battery bank during the charge/discharge cycles and actual efficiency of the batteries.
Continuously monitors each cell in the battery bank to identify deterioration in the cell prior to failure.
Identifies the net charge in the battery bank by monitoring charging and discharging currents.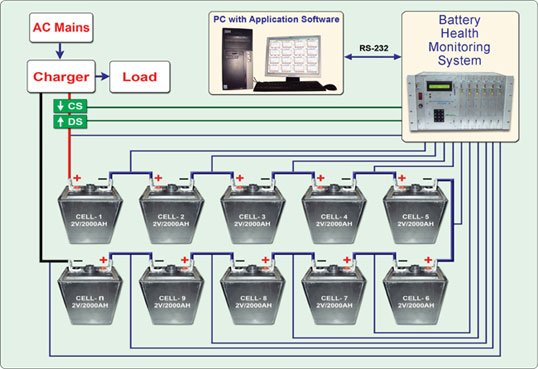 Features:
Continuous monitoring and recording of

Charge & discharge currents of battery bank
Individual cell voltages
Individual cell temperatures
AC mains voltage
Temperature of the battery room.

Identifies faulty cell by monitoring cell's parameters.
Audio and Visual alarms whenever battery fault occurs.
Remote monitoring of battery health through modem communication.
Application software

Online status of bank parameters in numerical and graphical manner.
Displays present battery state, netcharge present in the battery bank.
SMS and E-mail alarm notification for faults.
Numerical and graphical report of the history data.
History of voltage variations in charge/discharge cycles affecting the battery bank.
Amount of AHcharged, AHdischarged and battery state in a specific duration.
Report of faults, power failures occurred while monitoring the bank parameters.
Specifications:
Monitors cells of 2V DC/12V DC.
Current measurement range: 0-600A.
Batteries/any equipment temperature measurement range: 0° to 125° Centigrade
Monitors more than one battery bank.
Maximum number of parameters that can be monitored are 64.
Inbuilt memory storage for 10, 00,000 events.
Data transfer to PC with application s/w through RS232.
Operating voltage : 24V DC
Operating temperature range is from 10° to 70° Centigrade